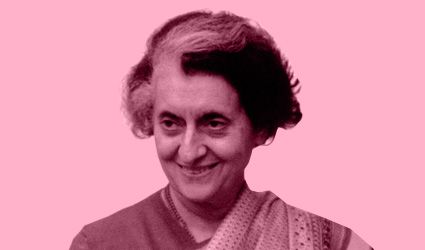 SMT. INDIRA GANDHI
Smt. Indira Gandhi saw herself as a latter day Joan of Arc—such was her ardour and faith in herself as a patriot. Like the "The Maid of Orléans", she too died as a martyr for the unity of her country. She had said before her tragic death: "Every drop of my blood will contribute to the growth of this nation and make it strong and dynamic."
Smt. Indira Gandhi saw herself as a latter day Joan of Arc—such was her ardour and faith in herself as a patriot. Like the "The Maid of Orléans", she too died as a martyr for the unity of her country.
She had said before her tragic death: "Every drop of my blood will contribute to the growth of this nation and make it strong and dynamic."
She was a woman of courage and admired people with fighting spirit, people who triumphed over handicaps. For instance, Helen Keller and Douglas Bader.
In her childhood, her father was a source of inspiration to her. The letters Pt Nehru wrote to Indira Priyadarshini became a part of "Glimpses of World History".
Anand Bhawan, Allahabad, was next only to Gandhiji's Ashram as the headquarters of the freedom struggle. Here she came into contact with the great men and women of the time. When she was only 12, she mobilized the children to help liberate the country. Her army of child volunteers was called the 'Vanar Sena'.
She received her formal education at Poona's Santiniketan and in Europe, but her real education was in the political life she was to later lead. She married Feroze Gandhi in 1942.
Her political apprenticeship was under her father after he became the Prime Minister of India.
Her election as the President of the Congress, in 1959, marked her entry into politics as an all-India figure.
On her father's death, she was drafted into the Union Cabinet by Shri Lal Bahadur Shastri as a reluctant Minister for Information and Broadcasting. Shri Shastri died in January 1966 and Smt. Indira Gandhi became his successor.
Her premiership was stormy and embattled. First was the confrontation with the so-called 'Syndicate' in the party which led to a split in the Congress in 1969. This was followed by the crisis created by the massive inflow of refugees from East Bengal.
In the Bangladesh war she defied the might of a superpower like America. The Navnirman movement in Gujarat and Jayaprakash Narayan's call for a "total revolution" caused tensions and led to the declaration of Internal Emergency in 1975.
After the Emergency was lifted, the Janata Party came to power and Smt. Indira Gandhi had to face much harassment and even imprisonment for a short while. In 1978, there was another split in the Congress but she commanded a majority and her group came to be called the Congress (I).
In 1980, she swept back into power. But her troubles were not over. The Congress (I) lost Andhra Pradesh and Karnataka and there was trouble in a number of states like Jammu & Kashmir, Assam and Punjab.
The rise of regionalism in Punjab proved a challenge to her leadership. She was compelled to order "Operation Bluestar" but there was no considerable abatement of Sikh terrorism. On October 31, 1984, she was assassinated by her own bodyguards.